Produktinformationen "Redshift Shockstop Suspension Stem / Vorbau"
Redshift Shockstop Suspension Stem / Vorbau
Neues Federungssystem für Gravelbikes, Touring, Bikepacking, Road, etc.
Du suchst mehr Komfort am Bike, möchtest aber dezente Optik, geringeres Mehrgewicht und geringere Kosten wie z.B. bei einer Federgabel ?
Dann könntest Du hier das ideale System finden.
Der neue, innovative Vorbau von Redshift absobiert Schläge von Wurzeln, Schlaglöchern, Kopfsteinpflaster auf optisch unauffällige Weise mit bis zu 20mm Federweg.
nur ca. 110 g mehr Gewicht als ein standard Vorbau, aber deutlich mehr Komfort.
unauffälliges Design. Ändert die Optik des Lenker-Vorbau-Systems praktisch nicht.
Handling und Lenkverhalten werden nicht beeinträchtigt. Kein "schwammiges" Gefühl.
individuelle Anpassung durch versch. harte Elastomere.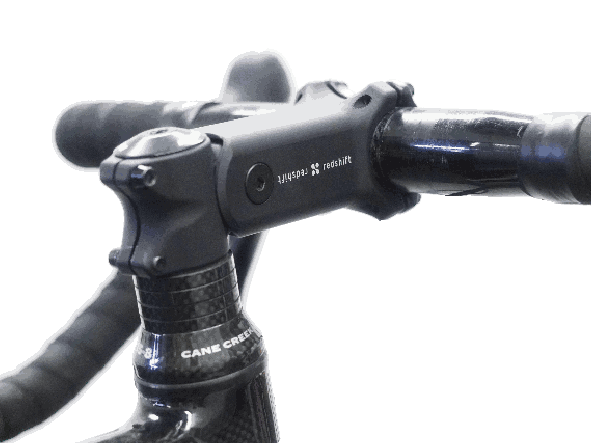 +/- 6° erhältlich in 90, 100, 110 und 120mm
+ 30° erhältlich in 100mm
5 austauschbare Elastomere (2 vorab eingebaut, 3 zusätzlich) ermöglichen eine perfekte Anpassung an das Fahrergewicht.
Passend für Standard 1 1/8" Gabelschaft.
Passend für 31,8mm Lenker (25.4mm and 26.0mm Adapter/Spacer können extra erworben werden)
max. Fahrergewicht: 135 kg
ShockStop Suspension Stem - gefederter Vorbau
Gewicht
264 g +/-6 deg, 90mm
274 g +/-6 deg, 100mm
286 g +/-6 deg, 110mm
298 g +/-6 deg, 120mm
274 g +30 deg, 100mm
Steuerrohrdurchmesser (A)
1-1/8 inch (28.6 mm)
Lenker Durchmesser (B)
31.8 mm
Effektiver Federweg
bis zu 20mm bei Rennradlenkers (Drop Bars).
bis zu 10mm bei flachen Lenkern (Flat Bars).
Material
6061 T6 aluminum
Maximales Fahrergewicht
135 kg (300 lb)
Höhe Steuerrohr Klemmung
40mm
Lieferumfang
1x ShockStop Vorbau
5 austauschbare Elastomere (2 vorinstalliert, 3 zusätzlich)
1x Anleitung in Englisch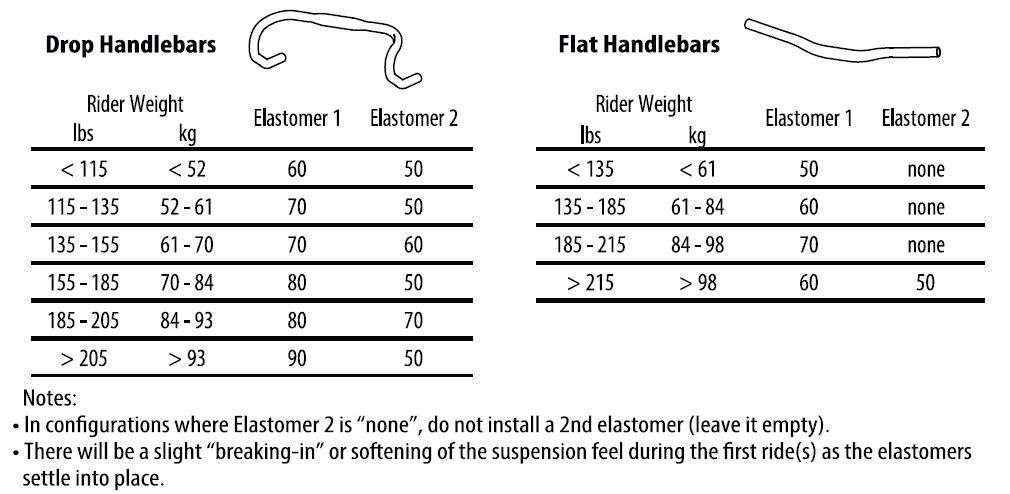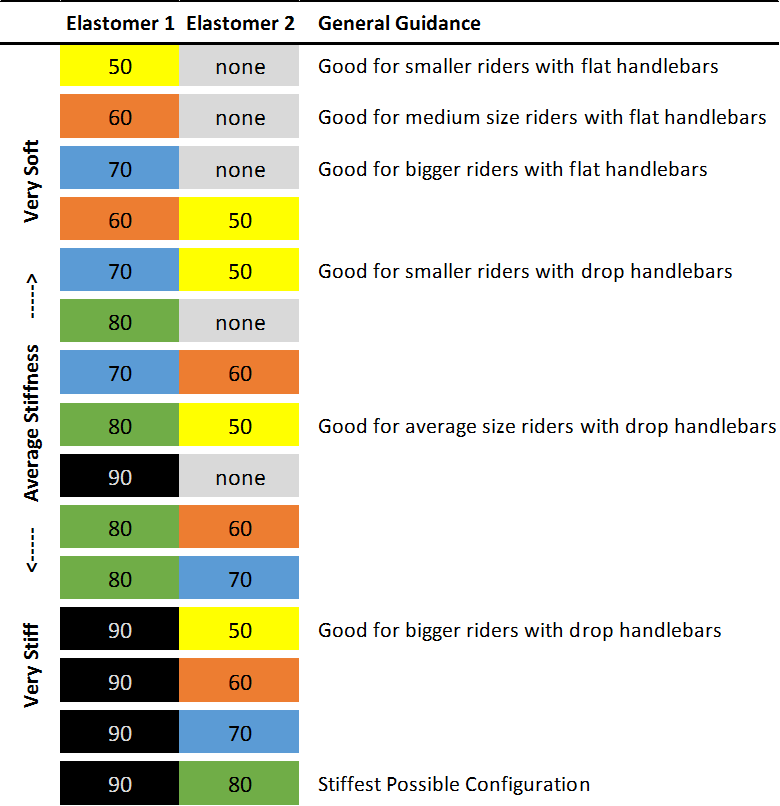 Installationsvideo
Reviews in the Press
"I'm kicking myself for not installing this sooner."
"My first ride on the ShockStop was an eye opener. Benefits were immediately apparent; it took the edge off direct root impacts, even with the already forgiving ... gravel tires taking the brunt of it. Dropping off curbs and nailing potholes yielded equally pleasing results ... I have no plans to take it off."
"ShockStop works... really well. Like, 'game changer' well.
"A great option for transforming a harsh ride into a smooth, fatigue-reduced cruise, while looking discreet"
"...we are believers."
"Not only does the ShockStop work, it works as well or better than any current road or gravel suspension setup - and for a fraction of the cost without cluttering up the bike's lines. It's also compatible with any bike that uses a standard stem, making it one of the simplest and cheapest ways to add suspension to an existing platform"
"[it] offers noticeable shock absorption in the rough stuff, and yet doesn't produce any annoying bounce during sprinting or climbing."
"It does not twist or have overt movement when riding straight or cornering. The damping quality for small vibrations is subtle, but with harder hits, roots and rocks and drops, the stem goes to work taking the edge off the bumps ... and it does not incur much of a weight penalty."
"This is a game changer..."
"The Redshift Sports ShockStop stem is nothing like these components I have seen, handled, and ridden in the past. It is one of the rare stems that has a shock absorbing quality that actually seems to work and is a pleasure to ride."
"The ShockStop stem uses a combination of adjustable elastomers to offer a bit of flex that will take the edge off rough roads. The amount of 'travel' is dependent on the length, as well as the durometer of the elastomers."
"I've just finished a weekend of racing cyclocross - three races in three days, and I rode the bike with this stem all three days. My upper body is reasonably sore, but what I'm not experiencing is the nerve pain I'd expect from all the shock I delivered my neck from the great many bumps I hit. Call me a believer."



"Honestly, flat out 5/5, I think this is a GREAT bit of kit. Commuter, Sportives, Weekend Road Warrior everyone will likely benefit."
"Basically if you've ever thought that you had a little too much road buzz on your bike, or wanted a more comfortable ride, the RedShift ShockStop is for you. I don't think I've ever been quite so confident in giving out a TG 5-Star score before!"
New Atlas
"It certainly smoothed out the chatter that comes with using hard skinny tires on rough, damaged asphalt. On a long road ride or commute, that could go quite a ways towards reducing or even eliminating hand numbness."
BikeRumor (www.bikerumor.com)
"The crew at Redshift put some thought and consideration into this project with a focus on keeping it simple, effective, and make it look like a normal stem. Unlike even the most shock absorbing carbon forks available, the Shockstop can deliver a full 1 to 2 centimeters of travel, (around 6°), which is enough to provide cushioning against most road impacts, without affecting the geometry or handling of your bike. Consider this in the now ever popular "Gravel" category and how much fatigue could be reduced over a 2 to 4 hour time period."
ROAD.cc (www.road.cc)
"That the ShockStop is proving popular is hardly surprising. Comfort has been a big driver of development on road bikes in recent years, with bikes like the Specialized Roubaix intended to provide a smooth and more comfortable ride than a regular race bike. The interest in wider tyres has been motivated by a quest for more ride comfort, especially given the poor state of our roads."
BikeRadar (www.bikeradar.com)
"The Redshift ShockStop shock absorbing stem takes the old suspension stem idea to a simpler, modern design."
Mountain Bike Rider (www.mbr.co.uk)
"It's light. It's simple. It fits on any bike pretty much. It's easy to remove for rides where it'll be superfluous. It doesn't interfere with luggage carrying. The Flexstem may have been a bit of a dubious idea for mountain biking, but the ShockStop could be just the ticket for some cyclists out there."
DC Rainmaker (www.dcrainmaker.com)
"This is from the folks behind the Redshift aero system that I've previously reviewed (and liked). Another interesting product."
Weiterführende Links zu "Redshift Shockstop Suspension Stem / Vorbau"
Verfügbare Downloads: